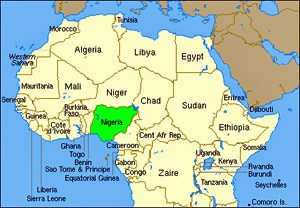 Nigeria's House of Representatives is currently reviewing a Senate-approved law that would expand laws against homosexuality there to include not only a ban on same-sex marriage, but also one on any LGBT gathering, including night clubs. As the law is debated in corridors of power as well as on Nigeria's streets, BBC News traveled to an underground gay club in Lagos, Nigeria's capital, to get a sense of what it's like to be gay in the African country.
From that report:
"A friend invited me here a few months ago," one chatty spectator says excitedly. "I love this place because it makes me feel at home."

This gathering of members of the gay and lesbian community in Lagos is held regularly, albeit discreetly, but it could soon be illegal.

The vast majority of gay Nigerians may not be interested in this kind of event but they still have to hide their sexuality in this conservative society.
…
Despite the jovial atmosphere, there is heightened caution, and no-one is allowed to take any photos.

The thought of being identified as being gay, lesbian, bisexual or transgender in a country where the public still turns to mob justice haunts some here.

And that is a huge concern for Richard (not his real name): "If you don't become discreet and try to hide yourself, even the man on the street will want to also act on the bill because it has been passed."

"If you're walking on the street and he stones you, he knows the law would stand for him because the law is against you."
A number of foreign nations have condemned the potential Nigerian law, but proponents are using this international opposition to bolster their argument: homosexuality is a colonial creation being imported from abroad. Opponents, meanwhile, insist laws against sodomy and gay people are the real colonial remnants.