Chris Brown reportedly assaulted Frank Ocean outside a recording studio on Sunday, Us reports: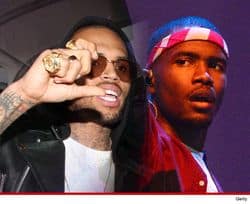 The 23-year-old has been accused of physically assaulting fellow R&B star Frank Ocean at a West Hollywood parking lot on Sunday Jan. 28. A report from the Los Angeles Sheriff's Department confirms that "Chris Brown and the victim were involved in an altercation over a parking space. The altercation allegedly led to Chris Brown punching the victim," with Brown and Ocean's respective entourages being separated after a brief tussle.
Ocean tweeted: "got jumped by chris and a couple guys. lol. i only wish everest was there…cut my finger now I can't play w two hands at the grammys."
TMZ adds:
UPDATE 3:00 AM PT:  Cops say they will continue to investigate and want to speak with Chris Brown.  They refer to Ocean as "the victim" because he's the one who stuck around and spoke with police.  Ocean said the fight started over a parking space (how L.A.) and Brown punched him.  There were 6 people involved in the fight.
UPDATE 10:45PM PT: Police have cleared the scene. We're told Chris Brown was not there when officers arrived — but they did speak to Frank Ocean. At this point … we're told no one wants to press charges, and no arrests have been made.