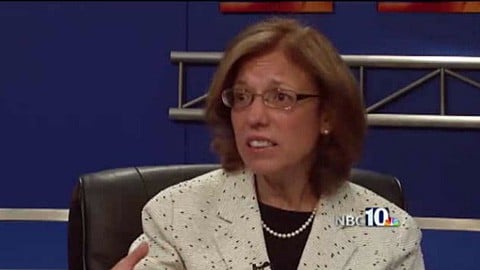 Rhode Island's WJAR spoke with Rhode Island Senate President Teresa Paiva Weed about the chances for marriage equality to pass. Paiva Weed says she has no idea:
"There are a number of folks in the Senate that would vote for that marriage equality bill that Sen. (Donna) Nesselbush has filed that mirrors Leader (Gordon) Fox's legislation. There's another group that wouldn't vote for any marriage equality bill. There's some folks that would support a referendum and support marriage equality. There are other folks that would support a referendum and would vote against marriage equality. And there's another group that might support marriage equality if the religious exemption was more expansive than it was in the House."
Asked if she supports it personally, she dodged: "I think as the leader of the chamber my responsibility today is to speak to the chamber's position, and there will be a meaningful debate…"
She also added, "I'm listening to everyone on both sides."
Watch, AFTER THE JUMP…
Marriage Equality passed Rhode Island's House last week in an overwhelming 51-19 vote.