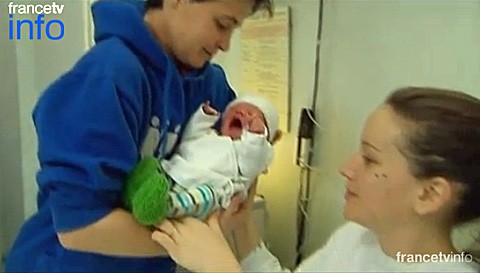 A partnered lesbian mother has given birth to the first baby born in 2013 in France:
Sacha was born between midnight and one minute past on January 1, in the central French town of Moulin, becoming the first recorded baby born in 2013 – excluding French territories.
Only the birth mother, identified as Maude, has legal rights over the child since the couple is not married – which would change if the new, "marriage for all" bill passes, as expected, following parliamentary discussions beginning later this month. Maude and her partner, Delphine, said they hoped to marry as soon as it becomes legally possible to do so.
Watch a French TV report on the birth, AFTER THE JUMP…
French LGBT rights activists and religious leaders are currently embroiled in a contentious battle over plans by President Francois Hollande to legalize same-sex marriage.