Angela McCaskill, the Gallaudet University associate provost of diversity and inclusion who was placed on leave in October after it was revealed that she signed a petition to put Maryland's marriage equality law on the ballot (Question 6), and subsequently appeared in an ad from the anti-gay Maryland Marriage Alliance opposing Question 6, has been reinstated by the university, the AP reports: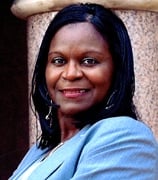 University president T. Alan Hurwitz announced the reinstatement of Angela McCaskill in an email to the campus community on Monday. The statement doesn't elaborate on the reasons for the reinstatement, and university officials declined further comment.
The Washington Blade adds:
In his email message on Monday, Hurwitz didn't say whether the reinstatement was based on any conditions. At the time he placed McCaskill on leave, Hurwitz hinted that he was sympathetic to concerns raised by gay and lesbian students on campus that it was inappropriate for the campus diversity officer to push for a ballot measure seeking to deny gays and lesbians the right to marry.
…
"During the past three months a large number of you have taken the initiative to communicate with me," Hurwitz said in his email. "This has been a period of reflection for all of us. I am deeply appreciative of the time you have taken to communicate your views, of the clearly heartfelt manner in which you have expressed those thoughts, and of the overall maturity you have shown in your willingness to consider the differing views others may hold."
He added, "The work of the University's Office of diversity and Inclusion is vital and must continue in an active and vibrant way. I personally look forward to working with Dr. McCaskill on the work of that office."