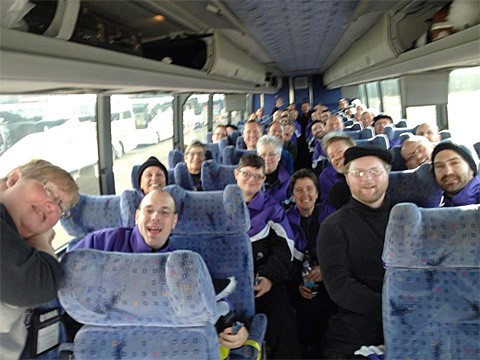 The Lesbian & Gay Big Apple Corps is one of the regional bands that will make up part of The Lesbian and Gay Band Association which is marching in today's inaugural parade.
Here's a cute photo of them shot this morning by Mike Szabo of the band in their bus on the way to the parade staging area.
The Washington Blade's Chris Johnson has a nice piece up about the contingent:
It won't be hard to pick out the Lesbian & Gay Band Association amid all the other contingents on Monday during the 57th Presidential Inauguration Parade.
The honor guard will be carrying a rainbow Pride flag as it leads the rest of the band members across Pennsylvania Avenue. One of the selections the band will play is "Edge of Glory," a hit from gay icon Lady Gaga. And the band members will be clad in fitted black outfits with purple accents.
Adam DeRosa, president of the Lesbian & Gay Band Association, says the outfits were chosen with a nod to symbolism.
"Purple is in some ways, if you're going to narrow it down to one color, a much more of a universal for the gay community," DeRosa says. "And for the camera, again, we wanted it to be something that was really going to stick out."