Nominees for the 24th Annual GLAAD Media Awards were announced this morning. 120 nominees in 25 English-language categories, and 33 Spanish-language nominees in 8 categories have been named.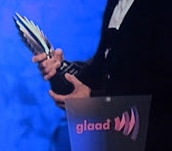 View the full list of nominees here.
We are surprised and honored here at Towleroad to be nominated for 'Outstanding Blog', an award we shared with the blog Mombian last year. Other nominees for 'Outstanding Blog' include Autostraddle, blac(k)ademic, Rod 2.0, and The New Civil Rights Movement.
Congrats to all our fellow nominees!
Nominated for Outstanding Digital Journalism are "'Don't Ask, Don't Tell': Transgender Officers on Secretly Serving in the U.S. Military" by Marc Lamont Hill, Live.HuffingtonPost.com; "Athletes at Core of 'Fearless' Photo Project" by Patrick Dorsey and Jeff Sheng, ESPN.com; "Edie Takes on DOMA" In the Life, ITLMedia.org; "Gay Rights in the US, State by State", GuardianNews.com; "The Advocate 45" (series) Advocate.com.
The GLAAD Media Awards ceremonies will be held in New York on March 16, 2013 at the New York Marriott Marquis; in Los Angeles on April 20 at the JW Marriott; and in San Francisco on May 11 at the Hilton San Francisco – Union Square, according to GLAAD.
They add, "The GLAAD Media Awards recognize and honor media for their fair, accurate and inclusive representations of the lesbian, gay, bisexual and transgender community and the issues that affect their lives.  The GLAAD Media Awards also fund GLAAD's work to amplify stories from the LGBT community and issues that build support for equality."