Two Illinois senators supportive of the marriage equality bill have been called away from the legislature on family emergencies, leaving the fate of the vote uncertain, the Windy City Times reports: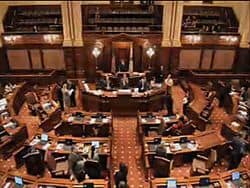 LGBT leaders and lawmakers declined to name the two missing Senators, but said that unless they can secure two more "yes" votes, a vote on the bill Thursday would be unlikely.
Sponsors of the bill had hoped for a vote on marriage, now tacked onto another bill as an amendment, on Thursday. The amendment was expected in the Executive Committee Thursday morning with a vote possible later in the day. But the absence of the two Senators appears to have stalled efforts.
The glitch has raised questions about whether or not the bill will be called to a vote in both the House and Senate by Jan. 9 when new lawmakers are sworn in.