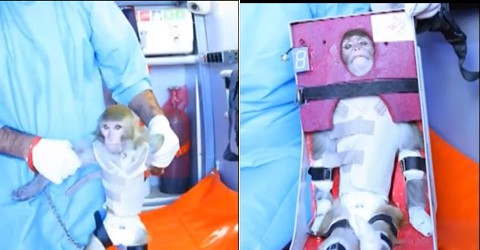 Iran has send a monkey into space in what it says is a prelude to sending humans, the NYT reports:
There was no independent corroboration of the report, which Press TV called evidence of "yet another" scientific achievement following earlier claims that satellites and living creatures had been launched into space. Western monitors have not announced any missiles launchings by Iran in recent days.
The state news agency, IRNA, said the monkey was sent into space on a Kavoshgar rocket that reached a height of 75 miles and "returned its shipment intact," Reuters reported. The monkey survived, according to Press TV.
The timing of the reported launching was unclear — either on Monday or within the past few days. An earlier attempt to launch a monkey into space in 2011 was reported to have failed.
A year earlier, Iran said it sent a mouse, a turtle and worms into space.
Watch a news report on the mission, AFTER THE JUMP…