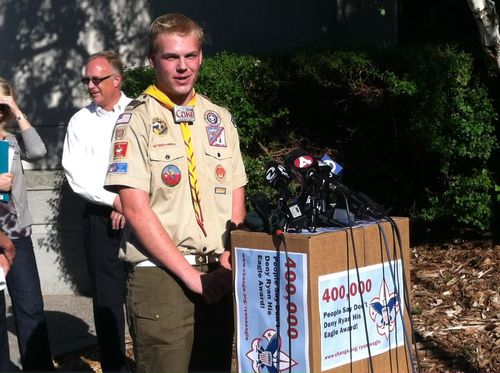 A California Boy Scouts chapter is challenging the national Boy Scouts organization after it approved gay scout Ryan Andresen's application for Eagle Scout status and forwarded it to the umbrella organization for approval, Reuters reports:
"From what I understand, this has never happened before," Eric Andresen, father of former scout Ryan Andresen, told Reuters.
"It's the first in-your-face (challenge)," said Bonnie Hazarabedian, who chaired the Boy Scout district review board that signed off on Ryan's Eagle scout application and forwarded its recommendation last week to the national headquarters for final approval…
…"I don't think sexual orientation should enter into why a Scout is a Scout, or whether they are Eagle material," said Hazarabedian. "We felt without a doubt he deserved that rank."
The Boy Scouts of America did not respond immediately to questions emailed by Reuters on Monday afternoon. At the time Ryan's case grabbed attention last fall, BSA spokesman Deron Smith issued a statement saying Andresen's Boy Scout membership had been revoked.
GLAAD adds:
Ryan was refused the Eagle status last year after coming out as gay. Because the BSA has upheld its discriminatory ban, 18-year-old Ryan was told he was ineligable for the BSA's highest honor, despite years of scouting and his completion of an anti-bullying project. In response, Ryan's mom, Karen Andresen, started a Change.org petition that has since received more than 450,000 signatures calling for her son to be given the same opportunities as other Boy Scouts.
"Councils across the nation are rejecting the Boy Scouts' grossly discriminatory ban on gay scouts, echoing the support of fellow scouts, business leaders, and the American public," said GLAAD President Herndon Graddick. "How long can the BSA go on ignoring its own members and its core values of fairness, leadership and integrity? The growing number of councils welcoming gay scouts and leaders reminds BSA autocrats: change will come with you, or without you."