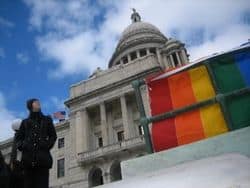 First Illinois and now it looks like Rhode Island is getting ready to make some serious moves on marriage equality.
From the Providence Journal:
Legislation allowing gay couples to marry in Rhode Island will be introduced on Thursday, the bill's longtime sponsor, state Rep. Arthur Handy, said Tuesday, the opening day of the 2013 General Assembly session.

Handy, a Cranston Democrat, said the bill is already drafted, but that he needs Wednesday's second legislative day to gather signatures from co-sponsors, who will include openly gay House Speaker Gordon D. Fox, D-Providence.

A key point of debate will be how the bill addresses concerns from religious groups.

Handy has said that the legislation will include, as it has in past versions, language granting religious groups protections, if they object to same sex unions as a matter of their religious beliefs.
2012 was a banner year, and it looks like 2013 is set to be memorable as well.