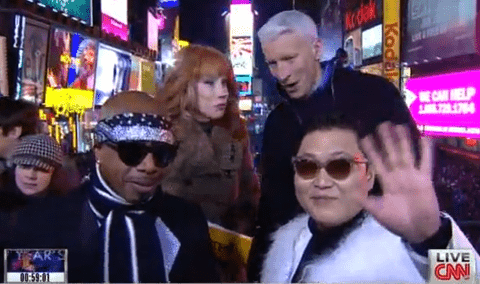 Goodness gracious, Kathy Griffin was in rare form when she joined pal Anderson Cooper for CNN's New Year's Eve countdown, particularly when tickled what she calls his "sack" and he what calls his "Christmas presents." She later attempted to distract the anchor by laying a lip smack down under. Maybe she was  confused about hemispheres and date lines?
While that moment, included AFTER THE JUMP, was most likely the most stressful for CNN's censors, Cooper says the most bizarre moment was when Psy and MC Hammer wandered onto their stage: "He was pushed on by some Psy PR team… I don't think he knew where he was. I don't think he knew who we were. I don't think he realized he was on CNN."
Watch Cooper and potty-mouth Griffin try to be gracious hosts AFTER THE JUMP.