In December, Andrew posted about Ashley Broadway, the wife of a ranking officer in the Army, who was excluded from the Association of Bragg Officers' Spouses in North Carolina because she is a lesbian.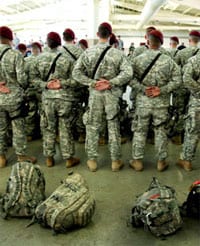 "The facts here are simple: there is no legal need or justification for any spouse to be excluded from a group like this, which exists to provide support to the spouses and families of our military men and women and the communities they serve," said Outserve-SLDN Executive Director Allyson Robinson.
Buzzfeed's Chris Geidner reports that the Pentagon is now backing up the decision of Army leaders at Fort Bragg not to intervene in the case:
The reason cited by an Army spokesman at Fort Bragg: "[F]ederal discrimination laws don't extend to sexual orientation." A Pentagon spokesman added late Tuesday that the Department of Defense "neither drafts, executes nor exercises control over the Club or its governing documents. Private organizations who adhere to the criteria outlined in applicable instructions are allowed base access."
The decision marks a distinct departure from the path announced this past week by the Marines, which will require such groups not to discriminate against same-sex spouses if they wish to operate on military property.
Ben Abel, a spokesman at Fort Bragg, however, said the spouses group is "not in violation of the law in the way that they are operating now."