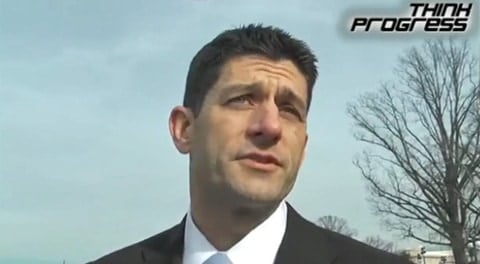 Think Progress caught up with Rep. Paul Ryan on Capitol Hill on Thursday and asked him about LGBT non-discrimination legislation.
Says Ryan: "My position is very clear on ENDA."
Watch, AFTER THE JUMP…
Think Progress notes that Ryan's position, unfortunately, is not so clear.
When he was tapped as Mitt Romney's running mate, the Log Cabin Republicans lauded his 2007 vote for the bill, his only pro-LGBT vote ever. However, Ryan personally lobbied its sponsor, Rep. Barney Frank (D-MA), to strip transgender protections from that version of the bill, a move that divided the LGBT community. Since then, every version of ENDA proposed by Democrats has included both sexual orientation and gender identity. Ryan refused to clarify his position during the campaign — most likely because of Romney's opposition — and his position on a trans-inclusive bill remains muddled.
Watch, AFTER THE JUMP…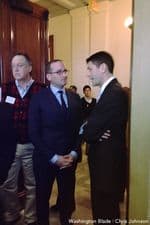 In related news, HRC President Chad Griffin was snapped by the Washington Blade's Chris Johnson chatting with Ryan, who attended fellow Wisconsinite Tammy Baldwin's swearing-in reception:
Later, Griffin told the Blade he wanted to speak with him because LGBT advocates can't only talk with their allies.
"Look, it's just as important that we talk to our friends as it is that we talk to those who are often against us," Griffin said. "And so, I introduced myself and thanked him for being here at Tammy's event and told them I hope we can find some things together to work together on."
Asked for specifics on what they could find in common, Griffin replied, "It was a private conversation. So, I'll leave it at that. But it was general conversation about my desire to find some common ground on things."