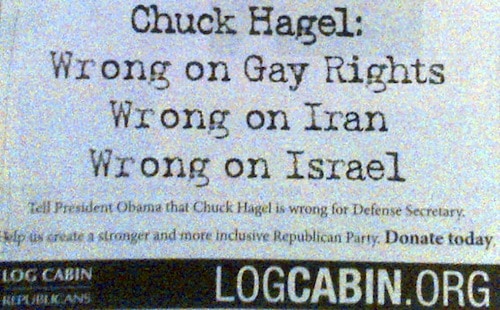 Gay radio host Michelangelo Signorile finds the Log Cabin Republicans' sudden, mysterious attacks on potential Defense Secretary nominee Chuck Hagel "laughable". From his latest piece at The Huffington Post:
Certainly, the way Hagel is being attacked by neocons and even smeared as an "anti-Semite" is ugly and reckless. It's also pathetic (and laughable) that the Log Cabin Republicans and some other gay conservatives are coming out against Hagel on the gay issue, clearly just allowing themselves to be used by the neocons. Having endorsed Mitt Romney and many other antigay Republicans, they have little credibility.

But that doesn't mean that Hagel's comments about Hormel, his voting record, and the insufficient apology are not a concern for many LGBT activists, and for many progressives. If Hagel and the White House want their support, they're going have to say and do a lot more.
President Obama told NBC News' David Gregory that he believes Hagel's apology shows a "positive change," but pointed out that he has not yet made a decision on who he will nominate to replace Leon Panetta as head of the Pentagon.