The Advocate will be returning to newsstands after a more than two-year absence, according to a press release from Here Media: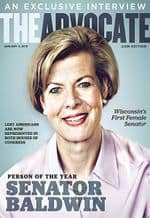 "Due to both reader and advertiser demand, we are thrilled to bring The Advocate print edition back to newsstands in 2013," said Advocate editor in chief Matthew Breen and executive vice president publishing Joe Landry in a joint statement. "We remain committed to providing timely and in-depth reporting of issues important to the LGBT community and our community allies, as well as providing the best media outlet for businesses targeting the gay market."
For the first time in over two years due to strong reader demand, The Advocate, which has been sold only by subscription since 2010, will again be available at major distributors nationwide starting February 2013.
The first edition will be back on January 15.