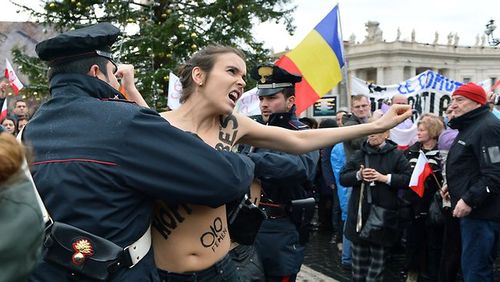 Four women from Femen, the oft-topless activist group that fights for women's and LGBT rights, were arrested at St. Peter's Square at the Vatican while the Pope was speaking today.
Baring their chests, and with slogans like "In Gay We Trust" and "Homophobe shut up" painted on their backs, the women were there to shake their collective fist at Pope Benedict and the Vatican's consistently hateful, discriminatory and increasingly outdated policies demonizing LGBT people.
Before their arrests, the Femen activists had to contend with irate Catholic pilgrims who tried to run them off. The scene was very reminiscent of when anti-gay activists started beating up the women during an action in France last November.
See some more shots from today's action AFTER THE JUMP.