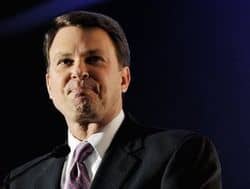 The Obama cabinet rearrange continues. Interior Secretary Ken Salazar announced yesterday he'll step down later this year, leaving yet another open spot for the president to nominate.
As speculation mounts over who could take the spot, one name keeps coming up: John Berry, the openly gay director of the Office of Personnel Management.
From the Washington Post:
Interior secretaries generally hail from the West, and Berry, a Rockville native, does not. But the president is under intense pressure from gay activists to appoint an openly gay secretary to his cabinet, a historic move. And Berry fits the bill.

He also has experience, serving at Interior during the Clinton administration as Assistant Secretary for Policy, Management and Budget then moving to direct the National Fish and Wildlife Foundation and the National Zoo during the second Bush administration. Obama tapped Berry to run OPM in 2009.
Berry has always been very honest about his sexuality, and last May made it the pivot for a moving commencement speech at the University of Maryland.
But an eventual confirmation by the Senate may get confusing: President Obama will have to be very careful when addressing John Berry and potential Secretary of State John Jerry.