UPDATE BELOW
Singer Azealia Banks has had enough of GLAAD, the media, and anybody who disagrees with her using the word 'faggot', she tells Australia's The Music. Last week, Banks reignited a Twitter feud with Perez Hilton, taunting him with the word "faggot" repeatedly, and canvassing her 300,000 followers as to their definition of the word.
Last month, singer Jake Shears and GLAAD responded to Banks, denouncing her use of the word.
Now she's speaking out about it: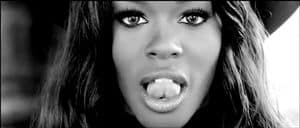 "There are such bigger problems… and then you've got organisations like GLAAD [Gay And Lesbian Alliance Against Defamation], which are f**king complete bulls**t.
"I mean let's look at it, it's gay and lesbian alliance against defamation, or whatever…. that's what it stands for, right? I mean would you agree that homosexuals, and the homosexual community, have bigger problems than the word faggot, you know what I mean?"
Furthermore, Banks pledges not to be torn down:
"Some people are Satanists, some people are Christians, some people are Jews, Buddhists, you know what I mean? Some people are still Nazis… there are some people who are still KKK members… Come on people, please. If you're trying to call me a homophobe, you're basically trying to imply that I'm insulting you for having sex with men. I have sex with men too – what the f**k?
"I have sex with men and women, do I have to take a picture of my licking a f**king pussy? What the f**k! It doesn't make any sense. It's so stupid. It's so stupid and it's so evil. And it's just like this stupid f**king media sh*t, you know what I mean? It's the media sh*t. And this is why I go about myself the way the way I go about myself, and I do whatever the f**k I want. If the media is going to build me up to tear me down, you motherf**kers are not going to tear me down.
"I just make these f**king raps, and I'm just gonna wear these outfits, and f**king live my life. I can't deal with you motherf**kers, I don't have time for this sh*t."
More at The Music…
Said GLAAD's Matt Kane last month:
"[That] is an ugly, archaic word that was used to stigmatize a population of people who suffer high rates of violence both here in the U.S. and abroad. As far as we've come in this society, seeing it used by an artist many young people may look up to is painful, but even more so for those young fans, many of whom GLAAD has heard from."
UPDATE:
GLAAD President Herndon Graddick reached out to Towleroad with a reaction to Banks' statements, and defense of the word "faggot".
Said Graddick:
"I've never said that Azealia Banks is anti-gay, but I
think she talks like someone disconnected from the violence experienced
by men who don't fit society's notions of masculinity — violence that
escalates when celebrities like Azealia Banks demean such people. It's
the queer youth and those who might not fit the mold of masculinity who
suffer most from this kind of crap she is peddling."
Additionally, GLAAD clarified that its blog posts in January about Banks were responses specifically to this tweet: https://twitter.com/AZEALIABANKS/status/287411995593039873.