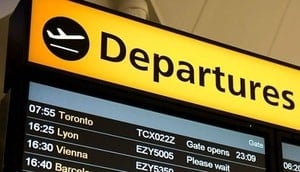 In a matter of weeks the Supreme Court will hear cases about the constitutionality of hetero-only marriage laws. Those laws include DOMA, which prohibits foreign halves of binational same-sex couples from obtaining permanent residency, even if they're married here.
Some couples and their families are torn apart, and other Americans are forced to find homes abroad. Brandon Perlberg, a lawyer, is among the latter. He's an expatriate by force, and now lives in London with his partner, a graphic designer named Benn Robert Storey.
The New York Times shares part of their story:
…The end of Mr. Storey's temporary visas was approaching. Because he does not have an advanced degree in a technical profession, lawyers advised them that Mr. Storey's chances of gaining a green card based on his employment were very slim.

The uncertainty of Mr. Storey's immigration future became "a dark cloud that hung over our relationship," Mr. Perlberg said. In July 2011, same-sex marriage became legal in New York State. But under the federal marriage law, Mr. Storey still would not have been eligible for a green card as a spouse.

When immigration also became a volatile issue in Britain, they decided
to move quickly, fearing that they might not be able to live in either
country.
Hopefully the moderate and conservative justices reading this and other such stories see not only the emotional side, but the economic side at stake: who knows how many other talented same-sex couples will flee the US' discriminatory marriage laws?