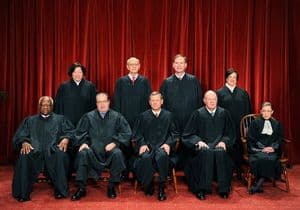 The American Foundation for Equal Rights has provided us with a list of the expect briefs due today from various groups opposing Proposition 8 before the Supreme Court.
Todiay is the filing deadline.
Still no word on whether one will be coming from President Obama.
Among the amici curiae filing briefs in support of the Plaintiffs are:
More than 100 social and political conservatives, moderates, and libertarians from diverse religious, racial, regional, and philosophical backgrounds, including Mary Bono Mack, Alex Castellanos, James B. Comey, Clint Eastwood, Carlos Gutierrez, Gary Johnson, Benjamin Ginsburg, Stephen Hadley, Margaret Hoover, Jon Huntsman, James Kolbe, Ken Mehlman, Steve Schmidt, William F. Weld, Christine Todd Whitman, Meg Whitman, and Paul Wolfowitz
Nearly 100 of the nation's leading companies, including Apple, Nike, Morgan Stanley, Facebook, AIG, Intel, Marsh & McLennan, Xerox, Verizon, Hewlett-Packard, Mesirow Financial, Cisco Systems, Oracle, Google, Panasonic, Barnes & Noble, Office Depot, and Alaska Airlines
The State of California
The States Massachusetts, Connecticut, Delaware, Illinois, Iowa, Maine, Maryland, New Hampshire, New Mexico, New York, Oregon, Vermont, and Washington and the District of Columbia
Utah Pride Center, Campaign for Southern Equality, and 25 state-wide equality organizations
Family Equality Council, Emory Child Rights Project, Our Family Coalition, the Center on Children and Families, and other advocates for children and families
Parents, Families & Friends of Lesbians & Gays (PFLAG)
A broad array of national, metropolitan, local, and minority bar associations and national and local non-profit organizations.
A diverse coalition of religious and faith group leaders
Professor Harold Hongju Koh and other international law scholars
AFER is posting links to the incoming briefs HERE.
In related news, Chris Johnson at the Blade reports that House Democrats are circulating a SCOTUS brief urging the Court to strike down DOMA:
Drew Hammill, a spokesperson for House Minority Leader Nancy Pelosi (D-Calif.), said his boss will lead other Democrats in the friend-of-the-court brief before the Supreme Court, which is due on Friday. The case pending before the court is known as Windsor v. United States.
"There will be a strong expression of support from the House Democratic Caucus in support of overturning DOMA and casting DOMA into the dustbin of history," Hammill said.
Hammill declined to provide additional details about the filing, so it's unknown what the argument of the brief will be. It will likely counter the arguments presented by the House Republican-led Bipartisan Legal Advisory Group that the committee speaks for the House as a whole.