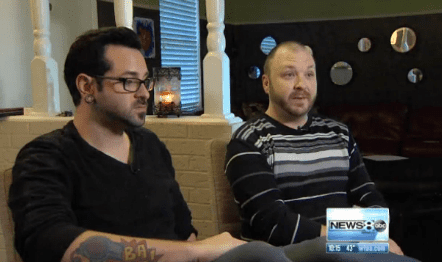 An anti-gay banquet facility in Texas has refused two men who wished to have their wedding reception at the venue. Ben Allen and Justin Hudgins, who have been together for eight years, plan to marry in Mexico in April. They also intended to hold a local reception for friends and family at the All Occasion Party Place located just outside of Fort Worth – that is until the owner told them she doesn't conduct business with gays.
KVUE reports on the refusal of service:
"She immediately responded with, 'Well, no, I don't do that,' and that was just the end of that," Allen said. "It felt like somebody had just hit me in the face." But Allen said he was told by phone and by e-mail the business won't serve gays.

"It is because of God that I will not be a part in your reception, and I know he loves you, but not what you are doing," an employee at the hall, Robin Hearne, wrote to Hudgins in an e-mail he provided to WFAA. "I simply said I can not rent to you which is also my right."
While the All Occasion Party Place has a Fort Worth address, it is apparently located just outside of the city limits. This prevents the application of Fort Worth's anti-discrimination laws. Allen and Hudgins are looking for an alternate location for their wedding reception.
Watch the KVUE news clip, AFTER THE JUMP.