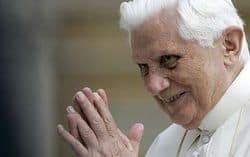 Earlier this week, two Italian newspapers, The Panorama weekly and The Repubblica, both reported that Pope Benedict had resigned from his post due to "various lobbies, including a gay lobby." The Vatican has now responded – and they are none too pleased with the reports and the Italian media.
The Vatican secretariat of state said in a statement: "It is deplorable that as we draw closer to the time of the beginning of the conclave … that there be a widespread distribution of often unverified, unverifiable or completely false news stories that cause serious damage to persons and institutions."
According to The AFP, which calls today's statement by the Vatican "unusual," Catholic Church spokesman Federico Lombardi has also commented calling the reports "gossip, disinformation and sometimes calumny."
The Pope will officially step down this Thursday.