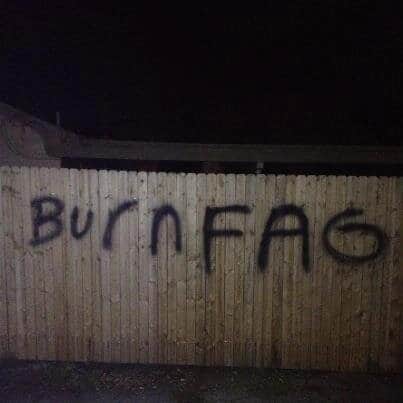 Over the weekend, Steve reported on a gay Texas couple who were told by a gay banquet facility outside of Fort Worth that they would not hold their wedding reception.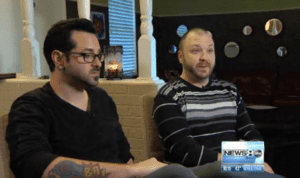 Ben Allen and Justin Ryan Hudgins found "Burn FAG" spray-painted in black across their fence last night, the Dallas Voice reports:
The couple lives in Everman, a town in Tarrant County located southeast of I-35W and I-20, less than 10 miles from Downtown Fort Worth. Allen said it happened sometime after 7 p.m. last night. Everman police were called and promised extra patrols in the neighborhood for the next month.
The couple has been together eight years and bought the house two years ago. They haven't had trouble in the past. Hudgins's mother lives four blocks up the street. The daughter of the town's mayor lives on their block. After police took the report, Allen said they covered the graffiti with a blanket because there's an elementary school across the street.
Allen told the Voice that they had been receiving homophobic threats on Facebook following media reports about the discrimination they had faced.