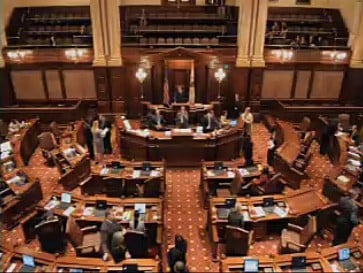 The Illinois Senate has approved a marriage equality bill in a bipartisan 34-21 vote after a couple hours of debate. The measure now moves to the House where it faces a toughter battle.
The 34-21-2 Senate vote represents a turnaround of sorts after advocates unsuccessfully sought to push a gay marriage bill through last month's lame-duck legislative session. Supporters vowed to try again quickly with a new General Assembly that featured even more Democratic seats in both chambers.
Under the measure, marriage officially would be changed in state law from an act between a man and a woman to two people. The legislation explicitly says nothing in the proposed law would force a religious denomination or minster to "solemnize any marriage." People in civil unions would be able to convert them to gay marriages within a year of a same-sex marriage law going on the books in Illinois.
Listen to the vote HERE.
Said Jim Bennett, Regional Director of Lambda Legal's Midwest Regional Office:
"We thank the Illinois Senate for passing this historic bill, making this a sweet Valentine's Day for loving same-sex couples across the state. The momentum for marriage continues on this day American holiday honoring love and commitment, and we now urge the House of Representatives to join the right side of history and grant same-sex couples the dignity and respect of marriage."
Together, Lambda Legal and the ACLU of Illinois each filed lawsuits on May 30, 2012, representing a total of 25 same-sex couples from across the state of Illinois seeking the freedom to marry. Two days later, the Illinois Attorney General's office filed papers agreeing that barring same-sex couples from marriage is unconstitutional. The Cook County Clerk and States Attorney also agree that the marriage ban is unconstitutional.
Said Rick Garcia, Director of the Equal Marriage Illinois Project and Senior Policy Advisor of LGBT rights group The Civil Rights Agenda:
"This is an historic moment and demonstrates once again that Illinois is the land of Lincoln – fairness justice and equality for all,. Just two years ago we thought this day was years away, but here we are and I am humbled to be sitting here today. This is an important step, but there is still more work to do. As we turn our attention to the House of Representatives we are working to make sure that they will pass it and the Governor is waiting to sign it."
Developing…