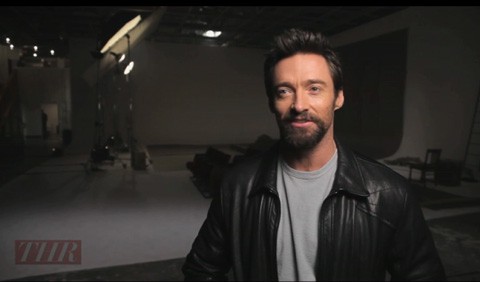 The "gay rumors" question that seems to follow Hugh Jackman to many a celebrity interview is back in a new Hollywood Reporter cover story, giving Jackman an opportunity to possibly express the same "ain't nothing wrong with it" sentiment espoused by evolved beings like Honey Boo Boo, and let the issue die.
Despite these friends and a seemingly idyllic life, Jackman admits rumors about his sexuality have taken a greater toll than previously acknowledged, especially on his wife. "Just recently, it bugs her," he says, blaming the Internet, which she frequents more than he does. (Jackman largely sticks to cricket sites and The Economist.) "She goes: 'It's big. It's everywhere!'"
His X-Men producer Lauren Shuler Donner shrugs off the gossip. "I have seen him with Deborra since the beginning of their trip to Hollywood, and I've been on five movie sets with him and have never seen him stray, have never seen him eye anyone. I met him when he did Oklahoma! [at London's Royal National Theatre in 1999]. He was genuine, hugely talented. He was in love with his wife that day and still is."
A behind-the-scenes clip of Jackman at his cover shoot, AFTER THE JUMP…