Here's Baltimore Raven Brendon Ayanbadejo's reaction to Chris Culliver's anti-gay remarks: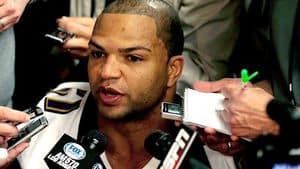 "You know, I think that in San Francisco, and being from the Bay Area myself, that's something that we really try to preach — love and acceptance of everybody. And so I couldn't really even say anything negative to the young man. It's just one of those things where you have to live and you have to learn. And I said earlier on (a TV broadcast) — in the words of Martin Luther King, you can't fight hate with hate. You have to fight hate with love. We've all made our mistakes, we've all been there and done certain things, and we've hurt people regardless if we meant to do it or not. But more than anything it's an opportunity to have a learning experience.
"I've preached since day one to my teammates that there's certain words you can't say. And when they're around me they know — if B.A.'s around, you can't say 'gay' in a derogatory manner, you can't say the three-letter 'f' word. And I tell them, I go, you can't say those things. And if people hear you say those things, regardless if you mean them or not, they're going to fry you. And if it's in a public arena your whole reputation's going to be roasted for it.
So we've kind of seen it happen this time. So we just have to all learn from what happened, from this mistake. He apologized and hopefully he'll learn. And he's in the Bay Area, and it's really important there, it's pertinent there. So I think he's going to learn and he's going to grow to be a better person for it."
The AP adds to those remarks:
"I'd say 50 percent of the people (in the NFL) think like Culliver. I'd say 25 percent of the people think like me. And 25 percent of the people are religious. They don't necessarily agree with all the things I agree with, but they're accepting," Ayanbadejo said. "So it's a fight. It's an uphill battle."
And USA Today reports:
Ayanbadejo, who got into a public battle with a Maryland delegate over gay marriage in September, welcomed the discussion — to a point. He balked only when asked for his theory on why pro football locker rooms seem to be behind the rest of society in accepting gay lifestyles.
"Honestly, I have my opinions why but I really can't voice them now," he said. "I think it's something we'll have to talk about after the Super Bowl."
Because they're too controversial?
"Yeah, I mean, it's tough to be sitting here talking about equality, and naturally that's the most important thing but right here and now I'm focusing on the Super Bowl so it's kind of tough to be talking about equality and what not when we're here for a Super Bowl," Ayanbadejo said. "With this such a huge platform and being such a big game, I have to narrow my scopes and have real fine vision and know the importance of why I am here and I'm here because of the Super Bowl.
"Of course, if I can be a voice for equality, especially after this game, then I welcome everybody to sit down and get together after the game and we'll do a lot more for equality than just talking about it now at a sporting event."
Finallly, the SacBee adds:
Asked if he believes Culliver's comments represent a common feeling among NFL players, Ayanbadejo said: "Yeah, it's pretty normal. It's pretty normal behavior."