The first excerpts form Obama's State of the Union address have been released, including this nugget: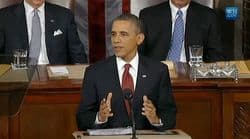 "It is our generation's task, then, to reignite the true engine of America's economic growth – a rising, thriving middle class.
It is our unfinished task to restore the basic bargain that built this country – the idea that if you work hard and meet your responsibilities, you can get ahead, no matter where you come from, what you look like, or who you love.
It is our unfinished task to make sure that this government works on behalf of the many, and not just the few; that it encourages free enterprise, rewards individual initiative, and opens the doors of opportunity to every child across this great nation of ours."
We'll see what else the speech has in store at 9 pm EST.