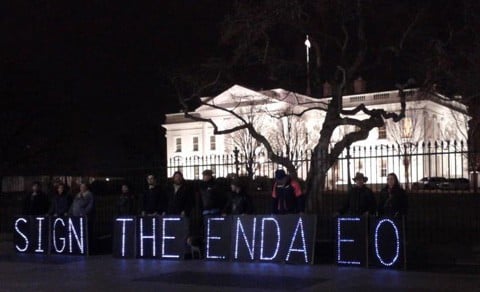 President Obama is considering more seriously the use executive power to extend protections to LGBT federal workers as lawmakers drag their heels on ENDA, the Washington Post reports:
President Obama is considering a series of new executive actions aimed at working around a recalcitrant Congress, including policies that could allow struggling homeowners to refinance their mortgages, provide new protections for gays and lesbians, make buildings more energy-efficient and toughen regulations for coal-fired power plants, according to people outside the White House involved in discussions on the issues…
…The White House is also reviewing whether the president should issue an executive order offering protections to gays and lesbians who work for government contractors. Obama decided against issuing such an order during the presidential campaign last year, disappointing many gay-rights activists.
But two people familiar with White House thinking said the president may reverse that decision and issue the order if Congress does not pass broader legislation offering protection for gays in the workplace.
Last night, activists from the group GetEQUAL staged a protest outside the White House:
Roughly a dozen members of GetEQUAL and the Maryland Light Brigade held panels with illuminated letters that spelled out "Sign ENDA EO" on the Ellipse and in front of the White House on Pennsylvania Avenue.
"The State of the Union is coming up in two days and our hope would be the president would get the message," Heather Cronk, managing director of GetEQUAL, told the Washington Blade. "He has the power to take action to end employment discrimination."
(image via GetEQUAL)