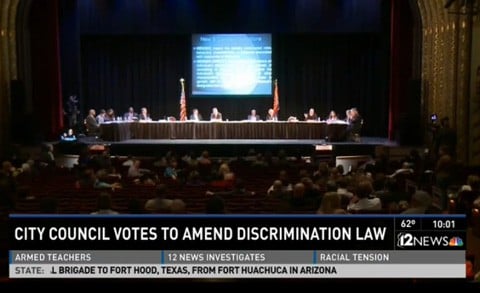 In what is being called one of the most contentious City Council meetings the city has ever had, Phoenix, Arizona, the sixth most populous city in the nation, last night passed broad laws barring discrimination against LGBT residents, the Arizona Republic reports:
Gay-rights advocates said the move was a long time coming. They said Phoenix, the sixth-largest city in the country, is playing "catch-up" with at least 166 other U.S. cities and counties that have adopted similar laws.
An estimated 500 people packed the Orpheum Theatre, and dozens of people spoke on both sides of the issue. Many supporters wore "yes" stickers and rainbow pins.
The paper adds:
Mayor Greg Stanton fast-tracked the reforms, which ban discrimination on the basis of sexual orientation and gender identity or expression — those who identify as a different sex than they were born as.
The changes approved Tuesday would prohibit discrimination in housing, employment and public accommodations, such as restaurants and hotels. Businesses and individuals that don't comply could be criminally prosecuted and face a misdemeanor charge, punishable by a $2,500 fine.
Phoenix currently offers few such safeguards for gay people but bans discrimination based on race, sex, religion, national origin, age and marital status.
Watch a news report with video of the meeting, AFTER THE JUMP…