A big book is coming next year on the federal challenge to Proposition 8 now headed to the Supreme Court, the AP reports: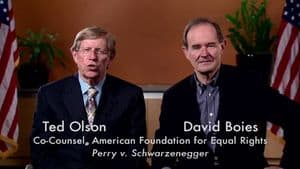 Democrat David Boies and Republican Theodore B. Olson have signed with Viking for "A Just Cause: Law, Love, and the Case for Marriage Equality." Viking told The Associated Press on Wednesday the book is scheduled for mid-2014.
"Our collective journey tells of a crucial and historical civil rights movement that brings us closer to the ideals on which our country was founded," Boies, 71, said in a statement issued by Viking.
Olson, 72, said he and Boies between them have "nearly 100 years in the law."
"We have never handled a more important, dramatic and emotionally compelling challenge," he said in a statement.