Obama administration officials tell NBC News that the Justice Department will file a brief in the SCOTUS case opposing Proposition 8: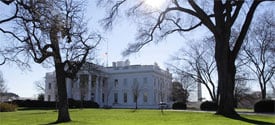 After first suggesting it would not get involved, the Obama administration will file a friend-of-the-court brief late today in support of the two gay couples who launched the fight over the issue four years ago, the officials said. Today is the last day for filing briefs in support of the couples' position.
The administration last year signaled it might stay on the sidelines. In May, when President Obama first said that "same-sex couples should be able to get married," he added that it was not a matter for the federal government.
Dozens of amicus briefs are piling in urging SCOTUS to strike down Prop 8. The American Foundation for Equal Rights (AFER, representing the plaintiffs, is keeping track of all of them here as they are filed.
UPDATE, via the AP:
While the administration's friend-of-the-court brief in the Proposition 8 case does not call for marriage equality across the United States, it does point the court in that direction.
A Supreme Court ruling in line with the administration's argument could have broad implications and almost certainly expand the rights of same-sex couples to wed.
The administration's nonbinding brief contends that denying gays and lesbians the right to marry violates the Constitution's Equal Protection Clause. The document urges the justices to give extra rigorous review to any law that discriminates on the basis of sexual orientation.
The person familiar with the brief spoke on anonymity in order to discuss the document before it was filed.
Developing…