Russian wrestling coach Vladimir Uruimagov claimed on Tuesday that the decision by the International Olympic Committee's Executive Board to cut wrestling from the 2020 Olympic games is the doing of gay activists who want to wipe masculinity from the world," R sport reports: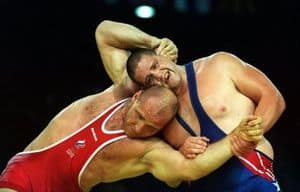 "If they expel wrestling now, that means that gays will soon run the whole world," said Uruimagov, saying it was "a blow to masculine origins. Uruimagov added: "It turns out this committee is headed by representative of these [sexual] minorities."
Uruimagov added: "It is necessary for millions around the world who understand that this is a man's sport and who understand the need to continue the human race to go out and explain their position to the Olympic Committee. We should prove and explain that in any other case there is no future."