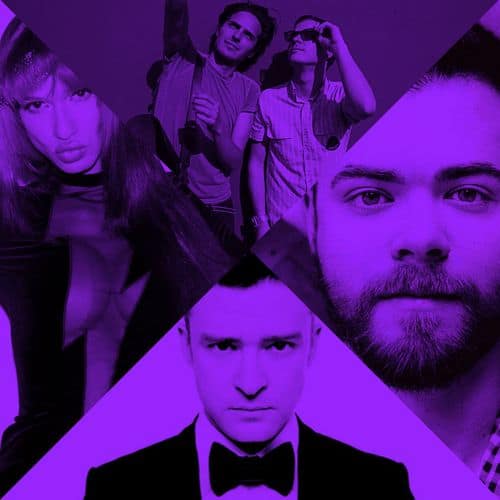 BY OCCUPY THE DISCO / RU BHATT
The OXD Mirror is a weekly music column brought to you by the boys of OCCUPY THE DISCO (OXD), a New York City based collective created by three music lovers, Ru Bhatt, Josh Appelbaum, and Tadeu Magalhães, who want to share their love for disco, house and dance music with the world. 
Ali Love feat. Kali: 'Emperor (Waze & Odyssey Remix)'
Ali Love is the voice behind Hot Natured's essential tune, 'Benediction'. His latest track, 'Emperor,' which releases April 1st, falls in suit with 'Benediction' with its soulful vocal styling, courtesy of Love, and energetic drum fills. UK-based Waze & Odyssey transform the disco infused original track into a lively house anthem that is sure to be a hit on the dancefloor.
Justin Timberlake: 'Suit & Tie (Julio Bashmore Remix)'
After producing hit songs for artists like Jessie Ware, British producer Julio Bashmore tackles Justin Timberlake's comeback single 'Suit & Tie' and predictably yields impressive results.  Bashmore chops up Timberlake's original vocals so they match his heavy organ production, and turns the infectious R&B-styled original song into a nu-disco-esque deep house banger that has much more appeal. 
€urocrats: 'Follow Me (Eliot Rollerblade Vocal Remix)'
€urocrats is a new musical project by two producers that are no strangers to this column: Dimitri From Paris and Aeroplane. While collaborations by hit producers are certainly on trend these days (see Hot Natured, DuTonc, and others), I am especially excited to hear what two of my absolute favorite DJs can come up with. The disco dons' new EP, Unite, has an impressive list of remixes from the likes of Fingerpaint and Busy P but it's Eliot's Rollerblade Vocal Remix of 'Follow Me' that is my favorite. The tropical 80's pop production by Eliot perfectly complements the New Order-ish vocals, creating a catchy track that transports you back in time.
Eli Escobar and Nomi Ruiz: 'Somebody to Love Me'
Eli Escobar & Nomi Ruiz's cover of Mark Ronson & Boy George's 2010 hit, 'Somebody to Love Me,' finally sees an official release on Escobar's forthcoming EP, Somebody To Love Me/Drifting, which drops on February 26th. Escobar's piano and saxophone laden production emphasizes the house elements of the song while the lyrics take an interesting twist when the openly transgendered Ruiz croons "I want somebody to be nice, see the boy I once was in my eyes." 
CONTINUED, AFTER THE JUMP…
Classixx: 'Holding On' 
L.A.-based DJs and production duo Classixx will release their debut LP, Hanging Gardens, this May. The lead single, 'Holding On,' has a churning disco rhythm reminiscent of classics like Earth, Wind & Fire's 'September,' with the addition of a thumping 4×4 beat that lures you to the dancefloor. The fading strings and house pianos create a dreamy element that is supplmented by a soulful disembodied vocal sample providing the catharsis that keeps me "holding on."
Del Marquis & Xavier: 'Let Me Tickle Your Fancy'
Although the Scissor Sisters are on hiatus, that's not stopping bandmember Del Marquis from making music. Del's solo debut, Slow Nights, won't be released until spring but he has teamed up with NYC's Xavier to release a six song mixtape, Tickle, which includes material that is "a little less serious" than the work on Del's album. Marquis refers to the mixtape as perverted and utempo, which would explain the decision to cover of Jermaine Jackson's disco jam, 'Let Me Tickle Your Fancy.' Enjoy the titillating, semi-NSFW (the model dances around in a jockstrap) video here.
Gigamesh: 'Enjoy'
Über producer Gigamesh proves he still has the magic with his latest single, 'Enjoy.' The song borrows a vocal sample from Wham!'s 1982 hit single 'Wham! Rap (Enjoy What You Do),' creating a feel-good dancefloor-filler that's only enhanced by the disco funk beats Gigamesh is very well known for.
Bixel Boys: 'Love Like This'
Faith Evan's 1998 hit 'Love Like This' is updated for 2013 by the L.A. Based Bixel Boys and turned into a soulful vocal house track. The simple, dreamy production hits all the right nostalgic elements without sounding dated. This song is available for free download on Bixel Boy's SoundCloud.
ColeCo: 'You're So Fine'
Toronto-based ColeCo tackles another one of Brandy's hits, the 1994 release 'Baby' with their latest, 'You're So Fine.' The duo has lent their signature tropical nu-disco sound to the track, creating a refreshing ditty that will have you longing for summer. 
Alien Alien: 'Monday'
The queer run label Discaire Records is the brain child of NYC's very own Ryan Smith, Jacob and Robert of San Francisco's Honey Soundsystem, and London's John Shanks. Discaire is releasing Alien Alien's Nights EP next month, and included on the release is a track that is not for the faint at heart, 'Monday.' The song features night-stalking salsa hand claps, wild aboriginal sounds and an infectious vocal mantra, creating a dark house cut that's probably best enjoyed in the wee hours of the night.
OCCUPY THE DISCO (OXD) curates and recommends music events to the gay community in NYC—in an effort to move the focus of the nightlife scene beyond the promoter and venue and to the music itself. OXD's goal is to educate, entertain, engage and empower the gay audience to reclaim their ability to question and experience the unknown. The OXD Mirror will serve to showcase tunes that are definitely off-the-beaten-path but rightfully deserve the attention of the gay ear. It's music that will make you dance, dream, and most importantly, love.
This week's post was written and curated by Ru Bhatt. Check out more of his music picks on his podcast, The Ru-Mix.

For more information on OXD, check out our website and accompanying blog at www.occupythedisco.com, like us on Facebook, or follow us on Twitter: @OccupyTheDisco.