Led by Reps. Frank Pallone (D-NJ, pictured) and Jared Polis (D-CO), 110 House lawmakers have signed a letter calling on President Obama to sign an executive order protecting LGBT workers from discrimination, the Washington Blade reports: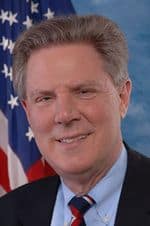 In a letter dated March 20, the lawmakers called on Obama to sign a much sought-after executive order requiring federal contractors to have non-discrimination protections for their LGBT workers.
"We believe that a fully inclusive America benefits us all and that sexual orientation and gender identity should never be used to discriminate in employment practices," the letter states. "For that reason, we request that you make signing an executive order that would prohibit federal contractors from discriminating in the workplace based on an individual's sexual orientation or gender identity an initial priority of your second term."
No Republicans signed the letter. Some notable Democrats were absent. Nancy Pelosi said she supports the substance of the letter but does not sign group letters because she is House minority leader.
The absence of some other Democrats, however, was unexplained, the Blade adds:
Other members of Democratic leadership that are absent from the letter are House Democratic Whip Steny Hoyer (D-Md.), whose daughter came out as a lesbian in an interview with the Blade, as well as Assistant Democratic Leader Jim Clyburn (D-S.C.). Their offices didn't respond to a request for comment either.
Another absent name is Democratic National Committee Chair Rep. Debbie Wasserman Schultz (D-Fla.).