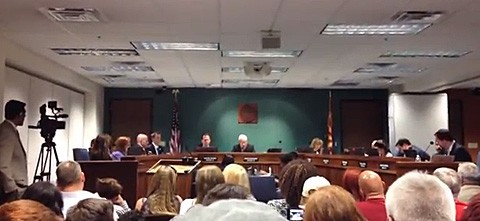 After a seven hour hearing late yesterday, the Arizona House Appropriations committee approved a bill targeting trans people and their ability to use the bathroom of the gender with which they identify, the AP reports:
The 7-4 vote concluded an hours-long parade of transgendered and straight people who tried to persuade the panel to oppose Appropriations Committee chairman Rep. John Kavanagh's bill. The crowd broke out in chants of "shame, shame, shame" as the vote on the bill sponsored by the conservative Republican passed.
Kavanagh had radically altered the bill after being faced with an outcry from advocacy groups…
The original bill would have made it a crime for a transgendered person to use a bathroom other than his or her birth sex. The new bill instead seeks to shield businesses from civil or criminal liability if they ban people from restrooms that don't match their birth sex.
The bill now goes to Arizona's full House for consideration.