Gay Illinoisans are still waiting for House lawmakers to vote on the Religious Freedom and Fairness Act which would make the state the 10th to legalize same-sex marriage, but there is still no word on when the vote might take place or what the numbers are, Chicago Pride reports:
The bill's sponsors continue to remain tight-lipped as to when the legislation will come up for a vote. Some advocates hope it can happen this week; others think it won't be until after the House returns from its spring recess on April 8.
Jim Bennett, regional dir. of Lambda Legal, which has been lobbying of the bill's behalf, told ChicagoPride.com that the House was most likely just moving legislation out of committees this week.
"If it is this week I would be surprised," Bennett said. "But it still could happen—I certainly hope it does."
He said he remains positive about the legislation's chances for passage.
"Last week we met with some Republican legislators who had asked to meet with some of the families speaking on the bill's behalf," said Bennett. "It was surprising to have someone reach out like that when we were not really counting on their support."
Bennett added, "If most of the Republicans were voting their own personal beliefs, this would pass overwhelmingly."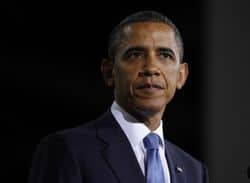 President Obama's Organizing for Action, the outgrowth of his re-election campaign, is getting involved, the Sun Times reports, sending an email today to Illinois supporters asking them to lobby lawmakers.
From the email:
If you care about marriage equality, here's something really important you can do right now.
As early as this week, the Illinois State House could vote on a bill — already passed by the state Senate — that will give all couples the legal right to marry. If it passes, Governor Quinn says he'll sign it into law. That's huge for all of us in the OFA family who care about this issue.
Right now, reports say the bill is short of the votes it needs to pass, so these calls matter. Take two minutes and look up your state representative right now — then give them a call to let them know that you want them to vote YES on the Religious Freedom and Marriage Fairness Act.
It's really easy: Just use that website to look up your address, click "confirm your address," then scroll down to find your state representative's information.
Like President Obama said last year, he believes that marriage equality is a question of fairness — of treating others the way you want to be treated. Right now, his home state is just one step away from becoming the 10th state in the nation to approve same-sex marriage — and making sure that gay and lesbian families in Illinois are treated equally in the eyes of the law. We've heard from OFA supporters here in Illinois that this issue matters to you, and that's why we're teaming up with Illinois Unites for Marriage — a joint project of ACLU Illinois, Equality Illinois, and Lambda Legal — to add our voices to this fight.
This House vote is the final hurdle to making sure this historic legislation becomes the law of the land. Right now, a number of state representatives are still undecided, and we know this vote's going to be close.
Take a few minutes to look up your state representative today and urge them to vote YES in allowing all loving couples to share in the freedom to marry:
http://my.barackobama.com/Illinois-Marriage-Equality