Chicago Mayor Rahm Emanuel is pressing his supporters to turn up the heat on lawmakers in Springfield ahead of an anticipated vote on marriage equality by the Illinois House, the Sun-Times reports: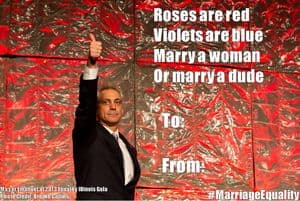 In an email to the vast network of supporters he created during the mayoral campaign, Emanuel created a vehicle for gay marriage proponents to pressure their state representatives with the click of a mouse.
"The clock is ticking. The House is poised to vote…in the coming days. And I know from talking with several of my friends in Springfield that some members of the House still haven't decided which way they'll vote," Emanuel wrote in a personalized email to supporters Monday.
"If we're going to pass this bill, it's crucial that members of the House hear from marriage supporters every single day until the freedom to marry becomes law in Illinois." …
… "It's time for the laws of our state to reflect the values of our people. It's time for Illinois to take the lead," the mayor wrote.
"Real change happens when citizens stand strong, tell their stories and urge their lawmakers to do what's right….What happens in the next week is up to you. Let's do what it takes to bring home a victory for the thousands of Illinois families who are counting on us right now."
Emanuel's email comes amid reports that supporters are still looking for the votes needed to pass the bill in the House. On Friday, Chicago magazine published an article indicating where the votes stand.
Find out how to contact Illinois legislators HERE.
(inset: a social media image created by Emanuel's office shortly after the Senate passed the marriage equality bill on Valentine's Day)