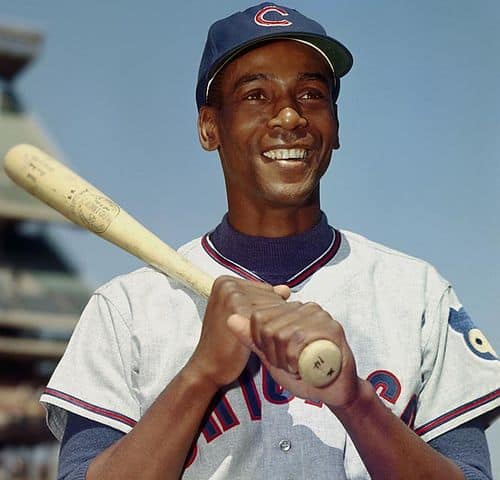 As the marriage equality bill awaits consideration by the Illinois House, it's getting support from a couple of Chicago sports legends — Chicago Cubs Hall of Famer Ernie Banks and Bears Hall of Famer Richard Dent (below), as well as Bears linebacker Hunter Hillenmeyer and former Bears and current Baltimore Ravens linebacker Brendon Ayanbadejo.
"As professional athletes, we always played for the love of the game. The competition on the field – whether it was the football field or the baseball diamond – strengthened us and continues to do so. But for that competition to take place, there have to be rules and a code of behavior. Above all, players have to treat each other with fairness and with respect. Doing so doesn't detract from the competition. It makes it better.
"We come from a variety of backgrounds, and we have played different sports for different teams. But one thing that binds us together is our belief in the importance of fairness and respect – in all aspects of life.
"In Illinois today, gay and lesbian couples who are in lifetime committed relationships do not have the freedom to marry. This violates our sense of fairness and respect. It also goes against the Golden Rule of treating others as you would like to be treated yourself.
"In sports, any time a player is not treated with fairness and respect, the game is diminished. Similarly, treating any group of people as second-class citizens hurts us all, because discrimination is wrong no matter whom the target is.
"For this reason, we believe that the Illinois General Assembly should act now and give same-sex couples the freedom to marry. It's the right thing for Illinois; it's the right thing to do, period."
Sincerely,
Ernie Banks, Shortstop, Chicago Cubs (retired)
Richard Dent, Defensive End, Chicago Bears (retired)
Hunter Hillenmeyer, Linebacker, Chicago Bears (retired)
Brendon Ayanbadejo, Linebacker, Baltimore Ravens (formerly with the Chicago Bears)"