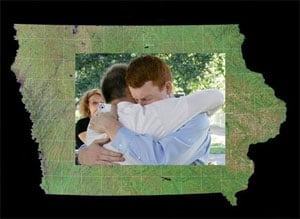 CNN's Nova Safo visits Iowa to see how the state has changed in its attitudes toward same-sex marriage over the past four years, sitting down with Molly Tafoya from LGBT group One Iowa and former state senator Jeff Angelo, who was once staunchly opposed to same-sex marriage but has completely reversed his position:
"Most of our small towns have people in them that are gay, and live peaceful lives. They're not made to feel like outsiders. So what occurred to me was that the political debate didn't really match up what was going on in Iowa communities. And that's when I thought this is just unfair. There's no evil force that's out there that's trying to destroy marriage. It was people that just wanted to fall in love, and have stable families and monogamous relationships just like I do. That's what changed my mind."
Angelo has now teamed up with Tafoya to form Iowa Republicans for Freedom, "a group working to advance a conservative argument in support of gay marriage and to encourage more Republicans to join the cause."
Angelo's group brought Ken Mehlman to Iowa in January, if you recall.
Listen, below: