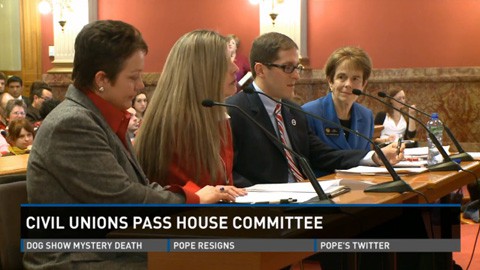 Colorado's House Judiciary Committee advanced SB-11, the Colorado Civil Union Act in an 8-3 vote late yesterday, reports One Colorado:
If passed, the bill will provide committed gay and lesbian couples with critical legal protections and responsibilities, such as the ability to inherit property, to take family leave to care for a partner, to visit a partner in the hospital, and to make medical and end-of-life decisions for a partner.
"Committed gay and lesbian couples in the state have been waiting for years — 10, 20, even 40 years — to have their relationships protected. It's well past time that these families have the security we all need and deserve," said Brad Clark, Executive Director of One Colorado, the leading organization advocating for civil unions.
"Representative Murray's courageous vote is further recognition that civil unions adhere to the core conservative principles of individual liberty and limited government. We look forward to bipartisan passage on the floor of the House," said Clark.
Civil unions legislation is sponsored by House Speaker Mark Ferrandino and Representative Sue Schafer.
the bill now goes to the Finance and Appropriations Committees. Debate in the full House is expected sometime during the week of March 11.
Watch a 9News report on the vote, AFTER THE JUMP…