A federal judge expected to deliver a ruling today that could have invalidated Michigan's ban on same-sex marriage has decided to postpone his ruling, the Detroit News reports: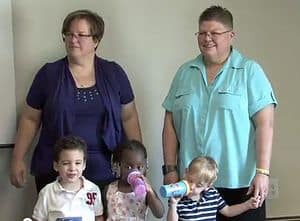 Federal Judge Bernard Friedman stayed his decision in the matter Thursday so he can wait until the U.S. Supreme Court decides two other federal cases, which will likely be in June.
"I'll be watching those case closes," Friedman said. "Hopefully, the Supreme Court will give us some direction."
The case being held in Detroit focuses on April DeBoer, 41, who adopted a girl, and her partner, Jayne Rowse, 48, who adopted two boys. But Michigan law prevents the Hazel Park residents from adopting each other's children.The nurses filed a lawsuit to try to overturn the state's prohibition on adoption by same-sex partners. And Friedman invited them to expand their case and take aim at the gay marriage ban.
"We are hopeful and confident," DeBoer said Thursday. "(The judge) has to hear all the arguments. And hopefully our children will be ours."
It is argued that if Friedman strikes down the gay marriage ban, supporters say gay couples could marry and acquire other rights, including adoption.