The Nashville Scene makes note of a new poll: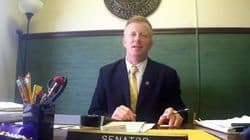 The Knoxville News-Sentinel reports:
Only 28 percent of those polled said they were in favor of gay marriage, with 62 percent opposed and the rest either undecided or refusing to answer. The result compares to 43 percent opposition in some national polls and 56 percent opposition in other Southern states.
On the other hand, 57 percent said they oppose "a law forbidding any instruction or discussion of homosexuality in eighth grade and lower classes in Tennessee public schools," a premise of a so-called "don't say gay" bill pending in the Legislature. Only 31 percent support such a law, 8 percent are undecided and the rest declined to answer, MTSU said.
So, take heart, gay Tennesseans! Tennessee is today where the country was back in 1996 — at 28-percent support of gay marriage, governed by a dude named Bill, and desperately missing The Ramones.