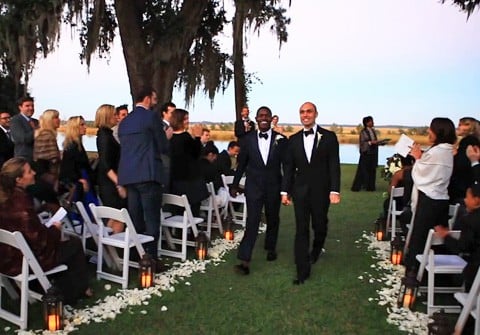 Our reader Kwesi sent in this clip of his recent wedding at the Ford Plantation in Savannah and it's just stunning in every way.
Writes Kwesi:
"I absolutely LOVE this site. I saw your favorite gay wedding videos and thought to send my own to you. Jackson and I got married in Savannah in November. We hashtagged the wedding #bestinterracialweddingonaplantation! I just thought to send it along your way. I love seeing the constant support of gay marriage throughout our country, and the many ways these unions take place."
Thanks, Kwesi, and congrats to you and your husband.
Watch, AFTER THE JUMP…
And if you missed out Valentine's round-up of our favorite gay wedding videos, check it out HERE.
Don't miss our other recent Gay Wedding videos…
Gay Wedding Video of the Day: David and TreDarrius [tlrd]
Gay Wedding Video of the Day: Patrick and Sébastien [tlrd]
Gay Wedding Video of the Day: Randy and Allen [tlrd]
Gay Wedding Video of the Day: Jason and Tony at the Plaza [tlrd]
Gay Wedding Video of the Day: Clinton and Callum [tlrd]