Minnesota's marriage equality bill, which was advanced by committee on Tuesday along with a similar bill in the House, survived attempts by Senate Republicans to destroy it on Wednesday, the Post Bulletin reports: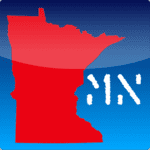 Both on the Senate floor and in a Rules Committee meeting, Democrats who control the chamber defeated a series of Republican motions to postpone its progress. Republicans said they were simply seeking more information about whether it would cost tax money to allow gay couples to marry — in court costs, state employee benefits and other areas.
While the votes were procedural, Republicans portrayed a final floor vote as a functional vote on gay marriage. That motion, which adds the bill to a long list of bills awaiting action on the Senate floor, passed 35-31. One Republican senator joined all but four of the chamber's Democrats to keep the bill moving.
Sen. Branden Petersen, R-Andover, sided with Democrats after previously revealing he supports legalizing gay marriage. The Democrats who went against the majority of their party all represent largely rural districts where last fall's election results, as well as more recent polls, show support for legalizing gay marriage is considerably lower than in the Twin Cities area.
Minnesota Public Radio has more:
The maneuvering began on the Senate floor, when Republican Sen. Warren Limmer objected to a routine motion to adopt a report from the Senate Judiciary Committee, which approved the same-sex marriage bill a day earlier on a party-line vote. The objection forced a recess of the floor session and sent the matter to the Senate Rules Committee, where Limmer explained that he had received information showing the bill could cost the state $688,000 in added insurance benefits to state employees.
…The debate was repeated on the Senate floor. But when it was time to vote on adopting the committee report, Republicans were no longer arguing about the need for more fiscal analysis.
GOP Senate Minority Leader David Hann emphasized what he believed to be the meaning of the vote. Hann read from the parliamentary manual to make his point.
"When we adopt a committee report we are in effect endorsing — and this is the quote: '…the statement or expressing its approval by the body' of the substance of the report," said Hann. "And it has the effect of 'expressing approval or endorsing the findings or recommendations' of the report. So members, what we're doing by adopting the report that is before us is we're adopting same-sex marriage in Minnesota."