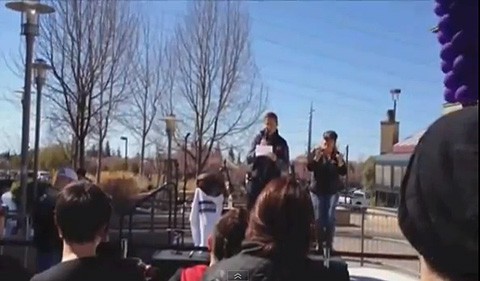 At a rally on Saturday at Roseville, California's Westfield Mall protesting the ejection of a gay couple (below) for kissing, Keith Kaplan, the VP of development at Westfield, apologized for the incident:
"I am here today to unequivocally state that everyone is welcome here at Westfield and we sincerely apologize by any actions taken by any of us that made anyone feel otherwise…I am particularly proud to represent our company at this event. I live in Hollywood with my partner Mike for over 20 years…"
Watch, AFTER THE JUMP…
Roseville Patch reported on the event: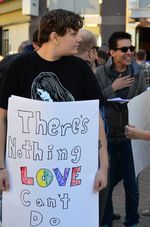 Speakers included Beverly Kearney, who originated the event, and David Larson, a former Roseville City Council candidate and founding president of Sacramento's Rainbow Coalition. Keith Kaplan, the mall's vice president for development, also addressed the crowd.
Kearney, said she wants everyone to feel welcome in public places. "It is time for a revolution," she said. "We cannot accept discrimination anymore."
Larson, called for a future where gay couples can openly show general affection in Roseville. "What is important 'today' is the history we are making 'today' in Roseville," Larson said. "And what is important is how we make that history."
Attendees like Dan McGhan, who kissed his partner a few times during the event, came to show support for Chesmore and Guzman. The couple were not seen attending.
"I'm not (usually) a big supporter of public displays of affection, but if someone does a little bit I don't think they should be kicked out of a mall," said McGhan, 49 of Sacramento. "More and more people are showing affection and we don't want them to go through this."
Galleria officials laid out a virtual red carpet for the event-goers providing amenities with servers offering attendees complimentary bottled waters, Mrs. Fields cookies and hot chocolate. They also commissioned an arched-entryway made of rainbow-colored balloons.