Last week I reported that Kentucky Governor Steve Beshear had vetoed House Bill 279, by which a "religious individual could claim an exemption from any law or policy that prohibits discrimination" according to the ACLU, "leaving racial minorities, women, LGBT people and others without adequate protections."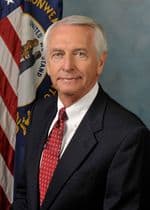 The ACLU earlier this month had expressed concern that the bill might be used to undermine existing LGBT Fairness protections for individuals covered by local statutes in Louisville, Lexington, Covington and Vicco, Kentucky.
Tuesday night, the Kentucky legislature voted to override Beshear's veto:
The House's 79-15 vote sent House Bill 279 to the Senate, which voted 32-6 to override the measure.
The one-paragraph bill that stirred strong emotions now will become law in 90 days.
The bill says that government shall not infringe on any person's sincerely held religious beliefs unless it can show with "clear and convincing evidence" some compelling governmental interest for doing so.