NOM's Brian Brown sees himself as the leader of a movement equivalent to MLK Jr's, Right Wing Watch reports.
Said Brown to Religious Right broadcaster Janet Mefferd: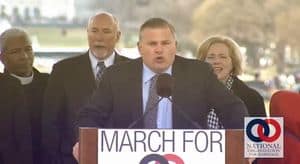 We were hoping for 5,000 people and we ended up with over 10,000. We filled the whole area in front of the court when we marched. It was a diverse coalition, we had African American leaders, Hispanic leaders, State Sen. Ruben Diaz brought 30 buses from the Bronx; it was just amazing. What I was most happy about, we talked about this before the rally, the way everyone conducted themselves. We were chanting, we were united but when folks tried to get in our way, there were some gay marriage protesters who tried to get in front of the march and stop us even though we had a permit, everyone just knelt down and started praying. I was not alive during the Civil Rights Movement but this is what it must have felt like, people were just so ecstatic to stand up and they did it in a loving, respectful way but they weren't going to be silenced.
Audio at RWW.