An Orange County man was convicted on Wednesday of murdering his boyfriend, then stealing his money, his car, and other items, the L.A. Times reports: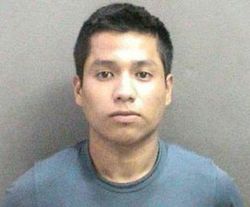 Prosecutors said that in June 2010, Fuentes had been in a relationship with Pedro Cerecer for about a month, and that by June 5, Fuentes had plotted for several days to kill Cerecer and steal his property. On that day, prosecutors said, Fuentes went to Cerecer's Santa Ana apartment and waited for Cerecer to fall asleep.
Prosecutors said that Fuentes beat Cerecer with a decorative rock, killing him. He took Cerecer's credit cards, cellphone and household electronics, including a flat-screen television. He loaded it into Cerecer's Toyota sedan and fled.
Fuentes faces a minimum of life in prison without parole.