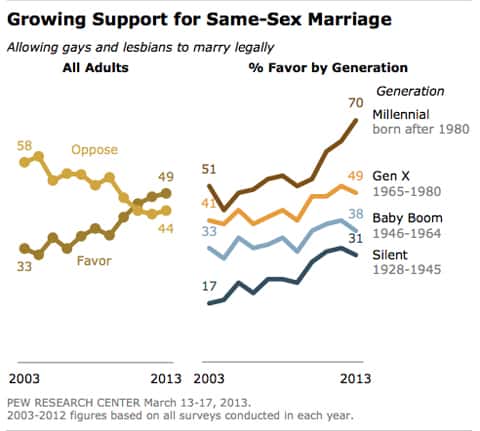 A new research paper from Pew reveals some numbers behind the shift in favor of marriage equality:
The long-term shift in the
public's views about same-
sex marriage is
unambiguous. Polling
conducted in 2003 found
most Americans (58%)
opposed to allowing gays and
lesbians to marry legally, and
just a third (33%) in favor.
The new survey by the Pew
Research Center, conducted
March 13-17, 2013 among
1,501 adults nationwide,
confirms that these figures
have crossed, with 49%
supporting same-sex
marriage, and 44% opposed.
The new survey finds 70% of "Millennials" – born since 1980 and age 18-32 today – in favor of same-sex marriage.
That is far higher than the support among older generations. But two other factors also
make the views of this group significant. Millennial support for same-sex marriage has
grown substantially over the past decade, from 51% in 2003 to 70% today. And
Millennials make up a larger share of the adult population today. In 2003, Millennials
made up just 9% of the adult population. Today, 27% of adults are in the Millennial
generation.
Support for same-sex marriage also has
increased among older generations over the
past decade. For example, in 2003, just 17% of
those in the Silent generation – born between
1928 and 1945 – favored same-sex marriage;
today 31% do.
The most commonly cited reason for the change of heart — offered by one in three respondents — is that they know someone who is gay.  Interestingly, that's the reason Ohio Sen. Rob Portman gave for his decision to come out in support of gay marriage recently; Portman's son, Will, told his parents two years ago that he is gay.
Other regularly-mentioned reasons for changing opinions on gay marriage include "grown more open/thought about it more" (25 percent), "it's inevitable" (18 percent) and "everyone is free to choose" (18 percent).
Doc Sweitzer, a Democratic media consultant based in Philadelphia, offered another take on why attitudes on gay marriage have shifted. "Here's the answer: Television," Sweitzer wrote in an email to the Fix. "It's the greatest socializing tool of all time.
Read the full Pew Research paper HERE.